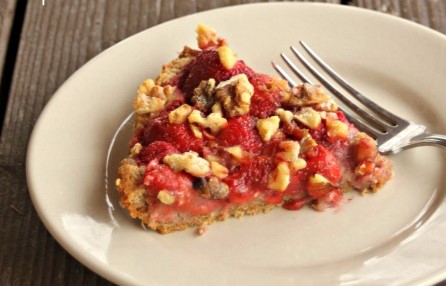 Bottom Layer:
1 Cup Sprouted Emmer Flour
2 teaspoons Baking Powder
1 Tablespoon Sugar
½ teaspoon Salt
3 Tablespoons Butter, Cold
1/3 Cup Milk
Strawberry Nut Topping Layer:
· 1 Pound (about 4 cups) Strawberries, halved (frozen – defrosted & drained)
· ½ Cup Walnuts, Chopped
· 2 Tablespoons Sugar
Preheat oven to 400 degrees. Grease a 9" pie plate
Whisk together the flour, baking powder, sugar, and salt. Cut in the cold butter using a pastry blender or 2 knives until the mixture resembles coarse cornmeal. Pour in the milk all at once and stir to combine.
Spread the flour mixture evenly into the bottom of the prepared pie plate.
Spread strawberries evenly over the flour layer. Sprinkle the strawberries evenly with the sugar and chopped nuts.
Bake in the preheated oven for 20 to 25 minutes. Cool in pie plate on a wire rack. Serve topped with whipped cream if desired.