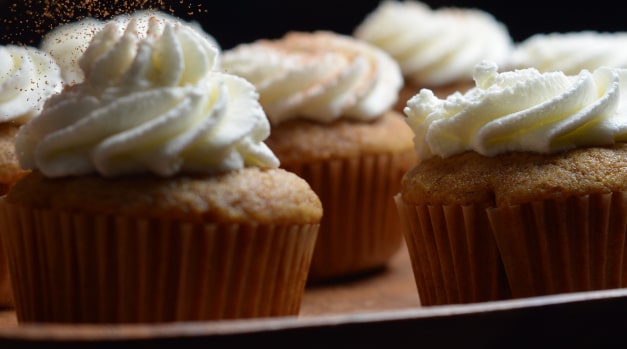 2 cups sprouted hard white wheat flour
2 teaspoons baking soda
¾ teaspoon ground cinnamon
¼ teaspoon ground cloves
¼ teaspoon ground nutmeg
½ cup butter, softened
1 cup sugar
1 egg
1 teaspoon vanilla extract
1 ½ cups unsweetened applesauce
Preheat oven to 350 degrees. Line a muffin tin with cupcake liners or grease.
Whisk together the flour, baking soda, and spices. Set aside.
Cream together the butter and sugar until light and fluffy. Add the egg and vanilla extract beating until creamy. Add the applesauce and beat until thoroughly combined.
Fold the dry ingredients into the wet, mixing until completely uniform.
Pour the batter into prepared muffin tin filling almost full. Bake in preheated oven 15-20 minutes or until an inserted toothpick comes out clean.
Cool in pan for 5 minutes before removing to wire racks to cool completely. Frost as desired – cream cheese frosting is quite nice but use any favorite flavor.