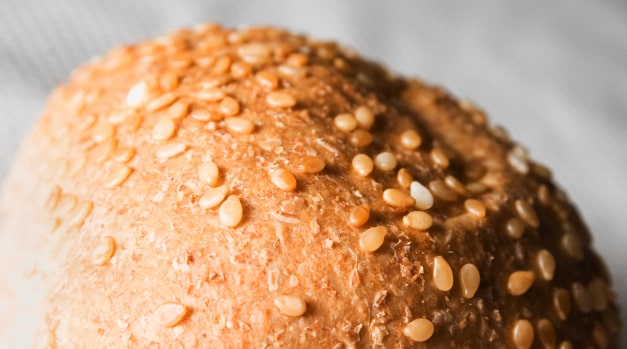 2 – 2 ¼ cups of sprouted hard white wheat flour, plus extra for kneading
1 cup warm water (Approximately 110 degrees)
1 ½ teaspoons yeast
1 tablespoon honey
1 teaspoon salt
Topping:
2 teaspoons sesame seeds
1 teaspoon poppy seeds
1 egg
1 teaspoon water
Combine the yeast and water in a large bowl, let sit for 5 minutes or until foamy. Stir in the honey and salt. Add 2 cups of flour and mix until a soft dough forms, adding another ¼ cup of flour if necessary. Turn out onto a floured board and knead until dough is elastic.
Grease a large bowl and put dough inside. Cover with a towel and let rise 60-90 minutes or until doubled.
Grease a 9" round cake pan.
Punch down dough and knead slightly. Break off 6 evenly sized pieces of dough and roll between palms. Place one roll in the center of the cake pan and evenly space the other 5 around the edge. Cover with towel and let rise about 30 minutes or until doubled.
Preheat oven to 400 degrees. Mix seeds in a small bowl. In another small bowl whisk together the egg and water until combined. Brush the egg wash over the rolls and then sprinkle evenly with the seeds.
Bake in the preheated oven for 20-25 minutes until golden brown and sounds hollow when tapped with knuckle. Let cool for at least 15 minutes before serving.